Tidal estuaries and cool things that happen there
Hi all,
this is a very off-topic collection of thoughts that maybe will inspire someone in either a writing or gaming context. A short while ago I walked Hadrian's Wall from east (Wallsend on Tyneside) to east (Bowness on Solway, a day's walk west of Carlisle), followed by a couple of days south to get me back home. The Solway estuary is a fascinating area of Cumbria, and one which I had not at all explored before. It divides most of northern Cumbria from the Scottish county of Dumfries and Galloway. As some folk will know, I have a long-standing fascination with tidal estuaries and reckon they'd make a great context for either a book or a game.
So here are a couple of particularly cool things about the Solway which struck me. First, you have to remember that at high tide the entire Solway estuary, which is fed by several rivers and not just the Solway itself, is a broad and deep waterway offering navigation for decent-sized vessels. In the mid 19th century there was a move to create a port on the southern shore which would be "a second Liverpool" - only a few decaying staithes and dock areas survive. At low tide most of this whole estuary consists of open sand and mud flats, heavily occupied by wading birds.
Now back in the day (before the act of Union which combined England and Scotland) the custom was for people on both sides of the border to raid each other's property, livestock, crops, women etc. These were the reivers and were most active and important further inland. Generally they rode from place to place... but to cross Solway they used footpaths called waths across the sands only accessible at low tide. Now of course both sides knew about exactly the same waths, which must have caused some interesting confrontations. But also the exact path varies from tide to tide and season to season, and the end result was that a fair number of reivers drowned or were otherwise lost by going the wrong way. I suppose it was worth it in the end?
But also as a more peaceful pursuit, in a custom going back to the Vikings, there is a local practice of fishing called haaf-netting. You wade out into the water at the turn of the tide in a line with your fellow fishermen, each holding a beam of wood (traditionally a Viking rowing oar but without the blade) with nets suspended from the oars on vertical strakes. You drew lots to find out who went where since (I suppose) the fish prefer one place to follow the tide in or out, and drawing lots is fairest. Then you wait, with the tidal water rushing past you, for some hapless fish to end up in your net. Whatever you catch, it's yours. I find it hard to think of a more dangerous and demanding form of coastal fishing!

There re a few videos if you like that sort of thing, eg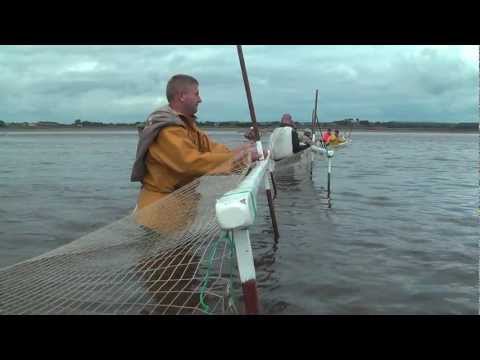 All the ones I have seen were taken on a reasonably fine day with no swell on the water... I suspect these are the minority up there...
At the extreme south of Cumbria, separating said county from Lancashire, you have Morecambe Bay, which also has its own low tide tracks (and its own share of fatalities over the years as people have wrongly estimated the tide) and its own forms of fishing, especially for shellfish.
Maybe it'll inspire someone.